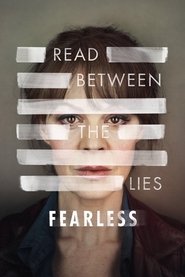 Fearless
Emma Banville, a human rights lawyer known for defending lost causes, sets out to prove the innocence of Kevin Russell, who was convicted for the murder of a school girl 14 years earlier.
Episodes: 5
Status: Returning Series
Seasons: 1
All Episodes
You may also like
Jamestown
The early 17th Century story of three courageous, dynamic women who leave their dark pasts behind in England, and make the journey of a lifetime across the ocean for a new life in America.

Country:
Genre:
My So-Called Life
The life of a 15 year-old high school student, whose angst-ridden journey through adolescence, friendship, parents, and life teaches her what it means to grow up.

Country:
Genre:
Motive
A cat-and-mouse series with a twist on the everyday whodunit, "Motive" centers on Angie Flynn, a detective on a backwards chase for clues to a killer that has already been revealed to viewers. The series, filmed in Vancouver, is an unconventional way to watch a crime unfold. Each episode begins by revealing to the audience, not only the victim, but the killer as well. The homicide detective then begins to piece together clues. How did they do it? How are the victim and killer connected? What's the motive? As the mystery unfolds, the audience navigates the twisted and complicated maze of each murder and solves the puzzle alongside Det. Flynn and her team.

Country:
Genre:
Secrets & Lies
A man who finds the body of a young boy quickly becomes the prime murder suspect, putting his life and his family at risk.

Country:
Genre:
Offspring
Offspring is an exuberant drama set in Melbourne's Fitzroy, centering on Nina Proudman and her struggle to deal with her fabulously messy family, her hunt for a decent love life and her tendency to over-think and fly off into fantasy.

Country:
Genre:
Last Resort
Last Resort is an American military drama television series. When the crew of the U.S. Navy Ohio-class ballistic missile submarine, the USS Colorado, pick up a U.S. Navy SEAL team off Pakistan's coast, the Colorado receives an order to launch nuclear ballistic missiles at Pakistan.

Country:
Genre:
Delicious
Gina is a Cornish chef who is suddenly forced to evaluate her closest relationships. A drama series about food, love and infidelity in Cornwall.

Country:
Genre:
Babylon 5
Babylon 5 is a five-mile long space station located in neutral space. Built by the Earth Alliance in the 2250s, it's goal is to maintain peace among the various alien races by providing a sanctuary where grievances and negotiations can be worked out among duly appointed ambassadors. A council made up of representatives from the five major space-faring civilizations – the Earth Alliance, Minbari Federation, Centauri Republic, Narn Regime, and Vorlon Empire – work with the League of Non-Aligned Worlds to keep interstellar relations under control. Aside from its diplomatic function, Babylon 5 also serves as a military post for Earth and a port of call for travelers, traders, businessmen, criminals, and Rangers.

Country:
Genre:
The Sopranos
The Sopranos is an American television drama created by David Chase. The series revolves around the New Jersey-based Italian-American mobster Tony Soprano and the difficulties he faces as he tries to balance the conflicting requirements of his home life and the criminal organization he heads. Those difficulties are often highlighted through his ongoing professional relationship with psychiatrist Jennifer Melfi. The show features Tony's family members and Mafia associates in prominent roles and story arcs, most notably his wife Carmela and his cousin and protégé Christopher Moltisanti.

Country:
Genre:
Chesapeake Shores
A divorced mom deals with an old romance and complicated family issues when she returns to her hometown with her twin daughters.

Country:
Genre:
The Man in the High Castle
Based on Philip K. Dick's award-winning novel, The Man in the High Castle explores what it would be like if the Allied Powers had lost WWII, and Japan and Germany ruled the United States.

Country:
Genre:
Masters of Horror
Masters of Horror is an informal social group of international film writers and directors specializing in horror movies and an American television series created by director Mick Garris for the Showtime cable network.

Country:
Genre: